Intro Ep: Learn to Bring Dead Leads Back to Life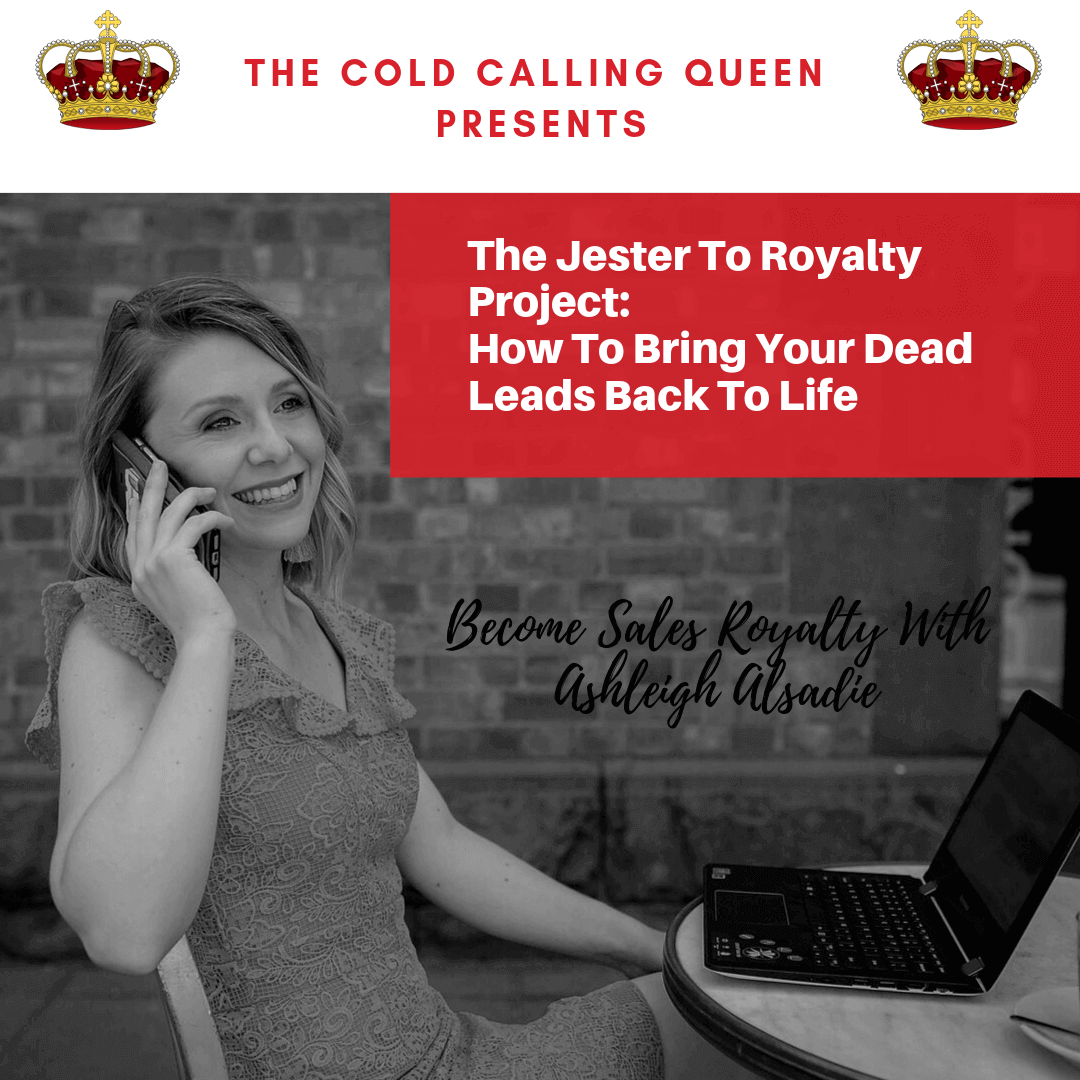 Welcome to the Jester to Royalty Project! I am your host, Ashleigh Alsadie and I am so excited about this particular episode because it is the very first!
I'm that crazy and rare breed that loves to do the grunt sales work that, let's face it, most of you hate, avoid or don't have time for. I have run a professional lead generation company 'The PromoDonna' for 8 years now, and have been a professional cold caller for 15 years. Having therefore completed approx. 50,000 hours plus of cold calling and sales activity, I am a unique sales trainer that puts 'practice into preach' each every day.
As a qualified Master NLP Coach, I can also teach you sales rapport building techniques that will have you connecting with your prospects instantaneously.
Many of you in my network have been screaming out for some great sales education. And through this podcast I will deliver exactly that! I (and my special guests) will educate you on how to sell more effectively and how to take your business to the next level achieving growth that maybe you've only dreamed of.
Now this particular episode, we are talking all about how to bring your sales leads back to life.
How can you revive an old leads and get past the gatekeeper? One of our internal strategies is to have it seem like you have a relationship already.
If 'John Smith' your past contact is still there, you can say, "Hi, it's Ashleigh, I'm calling from XYZ. Can I please speak with John?" If they then say, "Well, what's the call regarding?" You can say, "Well John Smith and I actually used to have a conversation, it was quite some time ago, but I really wanted to call and touch base and check in with him".
If John is no longer there and you've researched, cleaned up your dirty data by finding a new name, you can then say, "Well look, I used to speak with John Smith and I've recently been informed that Sally Donovan is now the best person". You leverage from that past relationship, whilst also seeming like you may have a new relationship with the new contact by doing that initial research and cleaning up your dirty data.
What is covered in this podcast:
The importance of following up your old 'box of business cards' from networking events/trade shows; data in your CRMs or spreadsheets of old leads and past clients
How to clean up your dirty data and why it gets you sales
Using LinkedIn as a sales tool
Tips for getting past the gate keeper
Striking while the iron is hot so that you convert more sales
The Now or Never Close
Researching your target market for information you can leverage from
How to create a connection and obtain relevant information from your lead
How to wow your prospects with unexpected sales strategies
Making sure your leads don't go cold again!
To listen, go to the following links:
Apple: https://podcasts.apple.com/au/podcast/ashleigh-alsadie-the-cold-calling-queen/id1483769956
Android: https://subscribeonandroid.com/rss.whooshkaa.com/rss/podcast/id/8751
RSS: https://rss.whooshkaa.com/rss/podcast/id/8751
Spotify: https://open.spotify.com/show/4h7x4AEswektQ2bFPAN1fY